Syria and cotton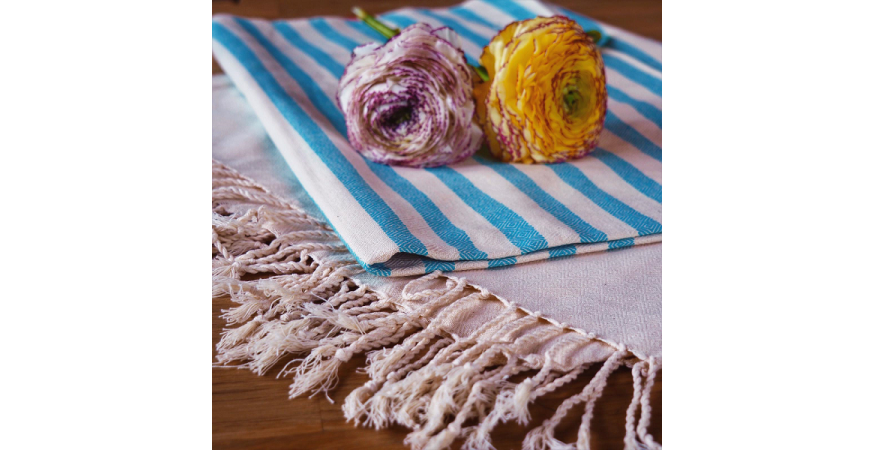 Cotton is found in many of our products, from damask tablecloths to Rania's foutas and bags.
Before the war, Syria was a very large exporter of cotton. Damascus achieved 10% of its exports thanks to textiles. Organic cotton was one of his specialities. It was the third largest exporter in the world. It is in this beautiful country of Syria that many fabrics were born and developed. But in times of war, the raw material becomes more and more expensive and less and less accessible.
These conflicts represent a threat to local handicrafts. In order to preserve it, we are committed to selling artisanal products. This allows craftsmen to live and support their countries. In the long term, the objective is the reconstruction of the country.
Damascus

It is in the city of Damascus that damask or damask was born. The particularity of this fabric comes from its designs which are woven and not embroidered. They are highlighted thanks to the difference in brightness between the yarns, there is a matt yarn and a shiny yarn. The shiny yarn is often made of silk. It is also common to use linen to make this fabric, it is stronger than cotton which guarantees a certain longevity. On a real damask we find the Damascus rose and the sun. Weavers prefer to use floral motifs. In general, damask fabrics are single-coloured. It is the difference in gloss that is important, using several colours would denature the damask.
At Comptoir de Syrie we sell tablecloths in Damascus, exclusively in cotton. The resulting fabric is soft and supple. Cotton has an absorbent capacity and is hypoallergenic
The foutas (towel)
Originally the foutas were large hammam sheets from Middle Eastern countries. It is a towel that was attached to the waist when entering the hammock. Now they are back in fashion and are very often used as beach towels, pareos, and even as tablecloths. The softness of the cotton allows you to take care of your skin. On the other hand, it is a very light and hypoallergenic fabric.
The foutas we sell are also made entirely of cotton. They are two-tone with red or blue stripes. They measure 2m x 1m.
These different cotton products make it possible to develop Syrian craftsmanship. It is thanks to this that Syria will recover and that craftsmen will be able to make a living from their jobs, from their passions.
Comments
Laissez votre commentaire