Rania and her fashion project I Love Syria.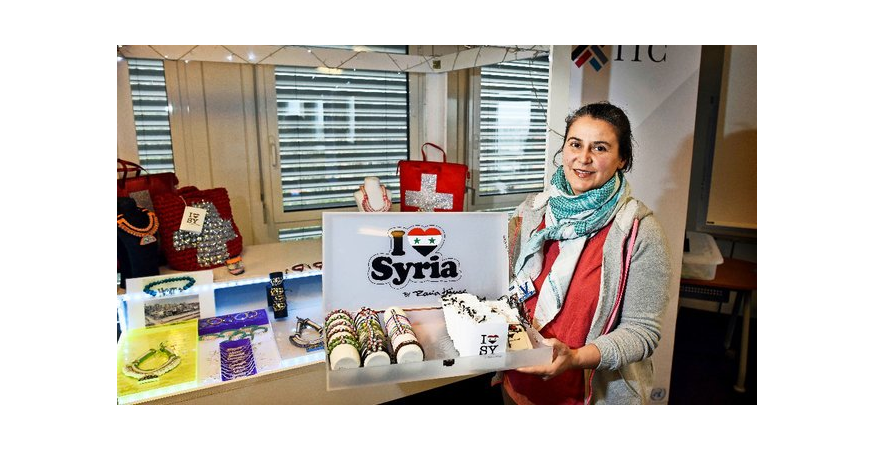 Discover the history of this range of bags and clutches made in Syria by women who want to overcome the war. It is the company of Rania Kinge, founder of I love Syria.
Rania and her project
Born in Syria to a family of diplomats, Rania Kinge spent most of her life in Geneva where she developed her talent as an artist and jewellery designer. She is fascinated by the most intimate details of the design. Rania is passionate about the rebirth of her people's craftsmanship and the local productive capacity of her economy.
It cannot live simply by watching Syria fall apart, marginalized and relegated to the Third World. Seeing these women living on charity and her people constantly victimized by war, she decided to take action.

In the midst of the constant threat of Daech and rockets destroying her former land, Rania launched a craft social enterprise that has become the "small haven" where Syrian women are used to make different items.
For the love of her country, she devotes all her time to job creation. Her ambition and her touch of madness allowed her to realize her dreams and to bring them to life among these Syrian women who were destitute and wounded by the war. Rania gives them hope of finding a united country. They therefore make trendy and trendy items while ignoring the common complications of living in a terrible conflict zone.
 The work is divided into several workshops, around Damascus and Lattakia where 130 women are spread over different activities. Each product is handcrafted using traditional techniques. This is what makes their work so special. Rania took a big gamble in starting her own business, it can be said that today she has succeeded, giving hope and dignity to these women.
Now, Rania's many creations are transforming lives, instilling self-dignity and transcending borders, from the Middle East to Europe and the United States, Canada, Australia and New Zealand.


I Love Syria and Le Comptoir de Syrie
It is in a common approach that our two companies have decided to collaborate together. This allows Rania's product range to penetrate the French market. We start first with cotton bags and pouches, they are trendy products here in France. To make a bag, a woman needs 2 weeks and for a pouch, 3 days. It is a meticulous work that requires a lot of time. To make these accessories, each woman undergoes several days of training.
The sale of a bag allows a woman to live for a month. That is why Dominique Charby has decided to participate in this great initiative by marketing these bags and pouches.


Support this great initiative!
You will find all Rania's bags in the textile category of the Comptoir de Syrie website.
Comments
Laissez votre commentaire